The Dual Heights Demorize system is a software platform for presentation and broadcasting of real-time digital signage, real-time motion graphics and interactive kiosk applications.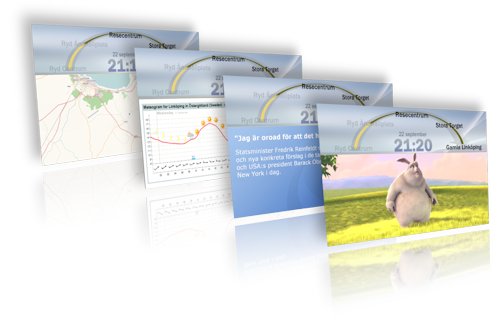 High Impact
The core part of the Dual Heights Demorize system is its unique presentation software. The software utilizes the power of today's computers' graphics capabilities and network infrastructure to produce high impact presentations consisting of images, video, texts, charts and other graphical elements that are combined to produce broadcast quality presentations.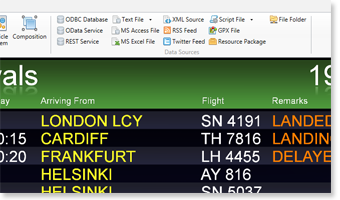 Automatic Data Mining
The data presented by the software can be automatically collected from network based data sources such as databases, network files or even Internet sources such as RSS-feeds and web pages. You can also use simple local files such as text files or Excel sheets to feed data into a live-running display.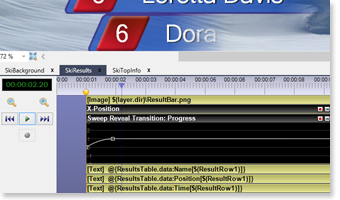 High Quality
Data is presented by the Demorize presentation software using an advanced time line system that can be used to add layout and visual effects to your presentations. Whatever you are presenting, it can be given a professional look previously only found in pre-made movie clips. The system is designed for full refresh rate updates, which results in a smooth and solid appearance capable of handling the requirements for television broadcast quality.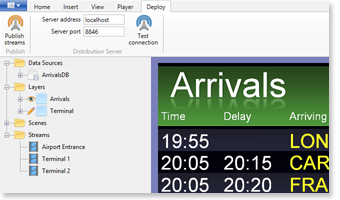 Real-time Broadcast
The Dual Heights Demorize system presents everything in real-time, assuring that the presented data is up to date on all displays throughout your installation as soon as it is published on your network. The presentations do not even have to be the same on different displays — each display can run its own presentation and is thus giving meaningful information for each intended audience.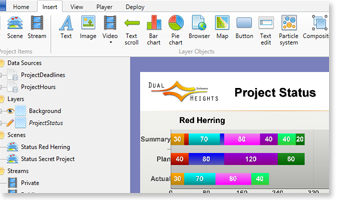 Your Message
The design of a Demorize presentation is all up to the user of the system. All the necessary tools for creating a professional TV-broadcast quality presentation are available. Images, video and text can be mixed, blended, animated and designed to fit a user's profile and needs.
Read more about ...
editor
player
standalone system
distribution server
license server
Screenshot of map data © OpenStreetMap contributors, CC-BY-SA | www.openstreetmap.org
Screenshot of temperature graph © copyright Meteorologisk institutt og NRK | www.yr.no
Screenshot from Big Buck Bunny movie © copyright Blender Foundation | www.bigbuckbunny.org