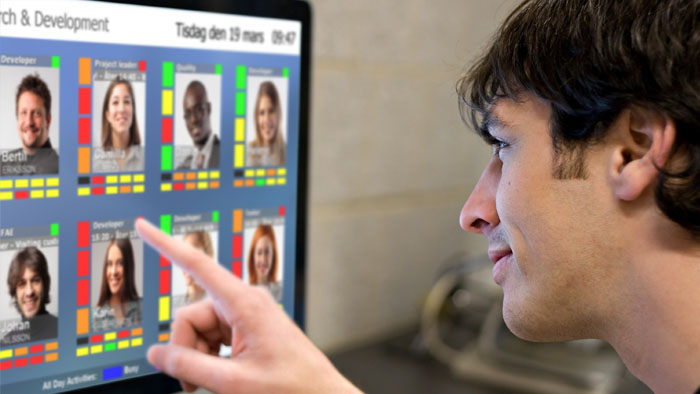 Digital Photo and Availability Board
Keeps your staff informed about the whereabouts and availability of your team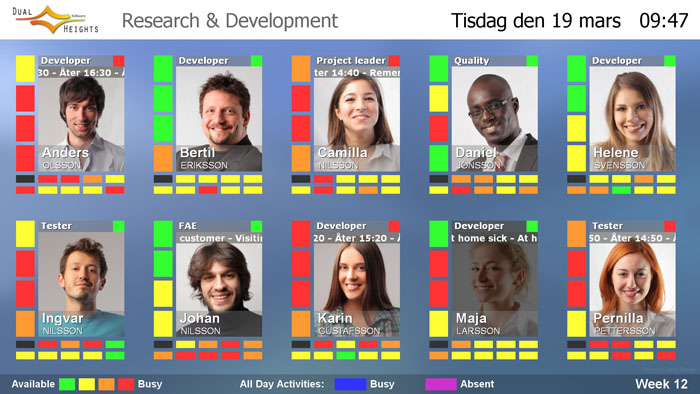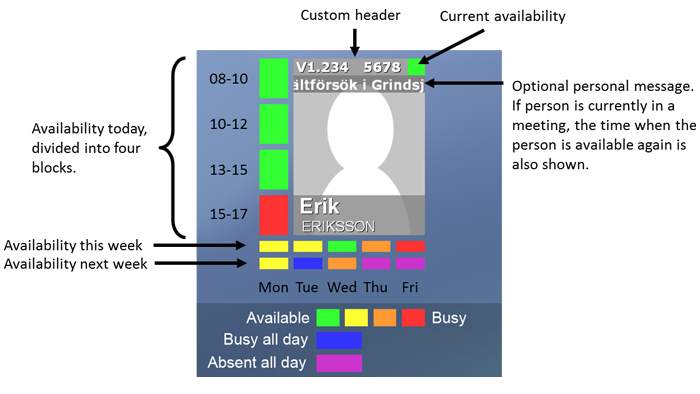 The digital photo and availability board is a software product for showing your staffs' availability in the near future. The board connects to a Microsoft Exchange server and shows the availability of your staff based on the calendar bookings they make in Outlook.

Touch on your screen photo to show to the rest of the colleagues that you are at the office, or leave a message for others to read. If you are currently in a meeting or on vacation, others will know when you will be back.
Program Features
Hang a screen on the wall in a public space of your office and your staff will no longer need to ask around for people that are currently not at their desk.

With an easy to use interface and automatic information collection, the photo board requires minimal administration. Once setup, your users will fill it with information through their daily Outlook usage.
Automatic availability information

Availability information is automatically collected from your corporate Microsoft Exchange server. The photo board checks what meetings you have booked in Outlook and automatically updates your presence on the screen.

At office status

Indicate to your colleagues that you are at the office by a simple touch on your photo on the screen. When you leave the office, touch again to check out. If you forget to check out at the end of the day, the board automatically checks everybody out at midnight.

Leave a message

Through a web interface users can leave a public message that is displayed on top of their photo. Use it for personal announcements or have an administrator update if you call in sick.

Up to 40 persons per screen

The screen automatically scales the photos for anything between 1 to 40 people. If you need to present more people, connect multiple photo boards to the same server.

Customizable graphics

Brand your screen look to match your corporate identity. The interface is fully editable through the Demorize Editor.

Custom photo header

The heading text on each photo can be changed through a web interface. This can for example be used to tell the person's title, role, room number or phone number.

Custom photos

Users can update their own photos through a web interface.

Live configuration

Add, remove or edit users on the photo board from your office through a web interface, without any need to restart the software.

Compliant with personal integrity laws

Users must opt-in before being displayed on the screen. Users can at any time disable the display of their calendar information or photo.

Secure deployment

The photo board application can be run as a screen saver. This means that the computer that runs the photo board is always locked from unauthorized access to your corporate network.

A product to grow with

Want to display anything else on the screen? The photo board is built on top of the Demorize Digital Signage software which enables endless possibilities in displaying other information besides just the photo board. Do it yourself or talk to us and we can help you design a custom solution for your company.
Buy
Place your order or request a quotation by sending us an email.

The photo board software ships on a USB stick that is sent by mail within the next few days after ordering.
One year of support and maintenance is included with our products.

System Requirements
The photo board runs as an application on the Demorize Digital Signage software. Demorize is a software suite that runs under Microsoft Windows Vista, 7, 8, 10, Windows Server 2008, 2008 R2, 2012, 2012 R2.
The photo board application requires a touch screen.